Career Coach can help you search for Access to HE courses linked to your future career goals, highlighting the skills and knowledge you need to enter particular job roles and industries. This interactive tool is a great way to browse up-to-date information on average and potential wages, and latest job vacancies, and to find the best career opportunities for you. It also highlights the current demand for jobs and professions in your region.
Take a Career Assessment to learn more about yourself and access career suggestions based on your interests and skills
Browse current data on wages, employment opportunities and common progression routes
Find the Access to HE courses that will help you reach your career goals
Use the CV Builder to create a professional and modern CV
Create an account and receive tailored information and advice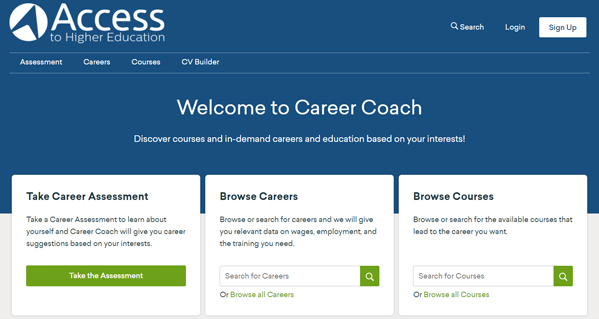 Note: Career Coach is hosted by EMSI. Course options given by Career Coach are suggestions based on common progression routes. Always check that the Access to HE course you have chosen meets the entry requirements of your chosen university or place of study. EMSI's Privacy Statement provides more information about how they process your personal data.